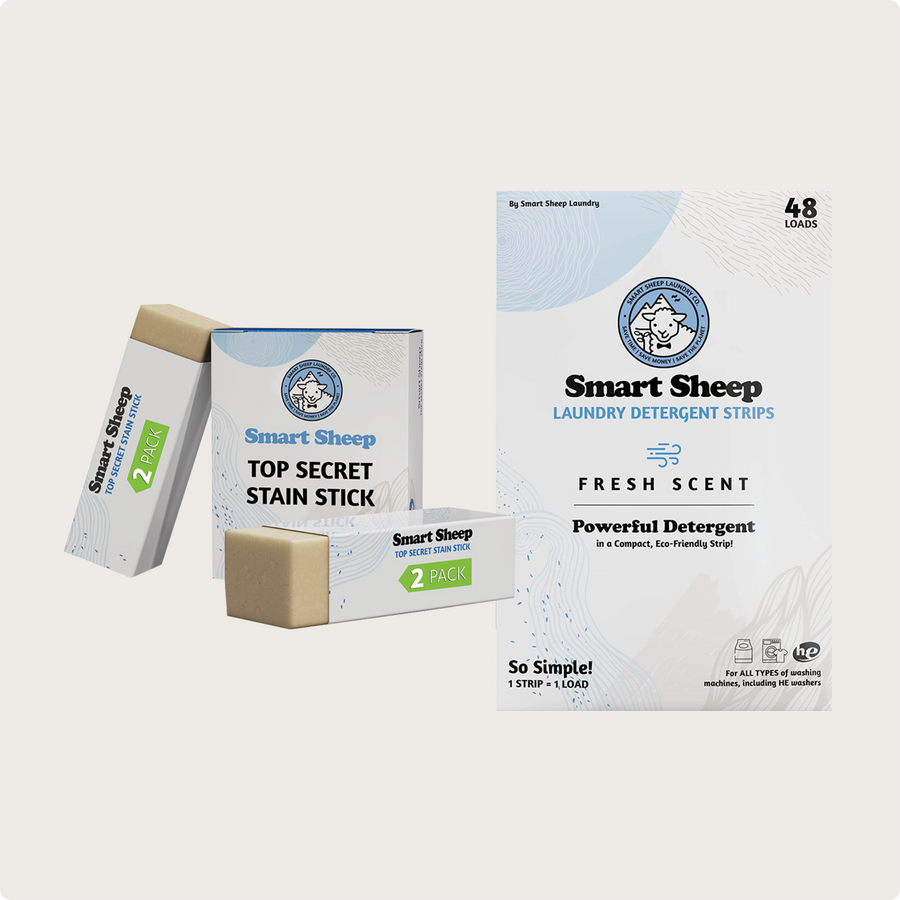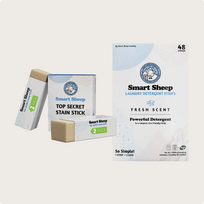 Detergent Strips + Stain Stick Bundle
Eco-friendly Detergent Strips + Top Secret Stain Stick (save 10%!)
---
---
Eco-Friendly Detergent Strips:

*Powerful detergent in a compact, eco-friendly strip!
*No plastic jug waste!
*Great for sensitive skin
*Perfect fresh scent
*Convenient for homes, dorms, laundromats, camping, travel and more!
*Works with any wash cycle, and HE washers.
*Use for 48 loads.
*Easy as 1-2-3:

Place strip(s) in the washing machine drum.

Add the laundry.

Start your preferred wash cycle.

Top Secret Stain Stick:

*Ditch Stains With Less Work - Discover the Smart Sheep top secret stain stick and get gleaming laundry effortlessly. Your purchase today comes with 2 sticks of our powerful laundry stain remover. Your stain-fighting secret is safe with us!
*Unbelievably Effective & Easy To Use - Smart Sheep stain remover for clothes helps remove stubborn stains in 3 easy steps. Our unbelievably effective stain remover works on most baby, food, drink, pet, grass, and blood stains.
*Super Convenient & Safe - The Smart Sheep spot remover for clothes is crafted with a top-secret formulation that's gentle on the skin, safe for kiddos, and super effective. Your new stain treater is perfect for home or travel.
*Reduced-Waste Packaging - We care about mother earth as much as you do! That's why our stain stick laundry stain remover is made with compact, paper packaging. Your purchase comes in a compact box to help reduce environmental impact.
*FREE SHIPPING to the USA


Free Shipping on all US Orders